Sell Sheet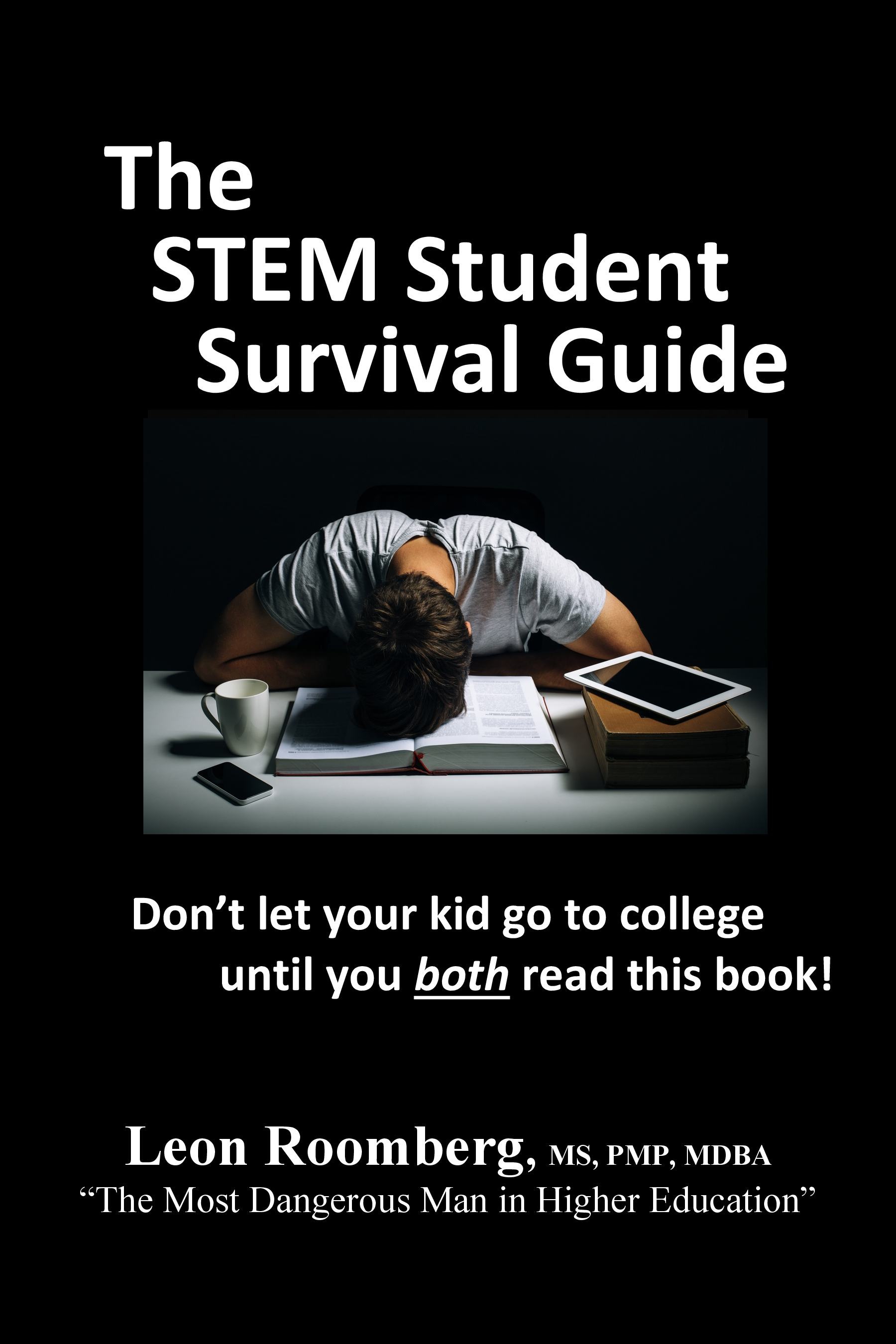 How to succeed in a STEM college program despite colleges who lie to you and fail to educate the majority of their STEM students.
Author: Leon Roomberg
Formats: 6"x9". Pages: 300

Hard Cover. $34.99.
• ISBN: 978-0-9991900-2-9
Soft Cover. $24.99.
• ISBN: 978-0-9991900-0-5
eBook, $24.95.
• ISBN: 978-0-9991900-1-2
Contact Noel Yaj
nj.office.services@gmail.com.
Order now at
www.StemSurvival.com.
Also available through Ingram, Amazon, Kobo, and Blurb.com
The STEM Student Survival Guide
Don't let your kid go to college
Until you both read this book!
THE DISCOVERY: During more than two dozen father-son college tours, Entrepreneur and Computer Systems Architect Leon Roomberg uncovered the ways even colleges with stellar reputations mislead prospective STEM students. The colleges award eight to ten times the amount of scholarships and aid available, then enable teachers to "curve down" STEM grades. As a result, about half of all STEM students "fail out" of their major. Then about half of the remainder lose all their financial aid and as a result, pay full tuition not for four years, but for five or six years when "make up" courses extend their college adventure.
THE SOLUTION: The book guides school and program selection. From course selection and scheduling; from peers, study groups, and tutor selection, this book provides gives you strategies to be part of the fifteen to twenty percent who graduate in the expected number of years, and graduate without forfeiting your college aid, sanity, or self-esteem.
AUDIENCE: High school juniors, seniors, college students, and their parents need to read this book before making disastrous decisions about college. For students who have already failed out of their major, this book provides a path back to success in the major and career you really want. If you are a parent, don't let your kid go to college until you have BOTH read this book. If you are a guidance counselor or school librarian, this book is the best resource to prepare your students for a STEM career.
MARKETING & PUBLICITY
Targeted online paid search (Google/Amazon)
Facebook Page and Advertising
Press Conferences and Political Lobbying
Book Tour – Open for School, Store, Library, and Association Author Visits & Presentations
More Book Tour - Guideance Counselors, PTA's, Student STEM Career Groups
About the Author
Growing up prior to the term "ADHD" popularization, teachers classified Leon Roomberg as "trouble."
With financial challenges, he attended six different colleges intermittently. He earned Bachelor and Master degrees, certifications in Project Management and Database Administration, then attended doctoral courses at three different colleges, and then more than 300 hours of trade school education in Networking and UNIX administration.
With four decades of technical and managerial experience, Leon has hired more than a hundred people, mentored many, founded several small businesses and maintained a non-profit counseling practice.
It was during more than two dozen father-son college tours that the ideas for his book, "The STEM Student Survival Guide," took form. Teachers still think he is "trouble."